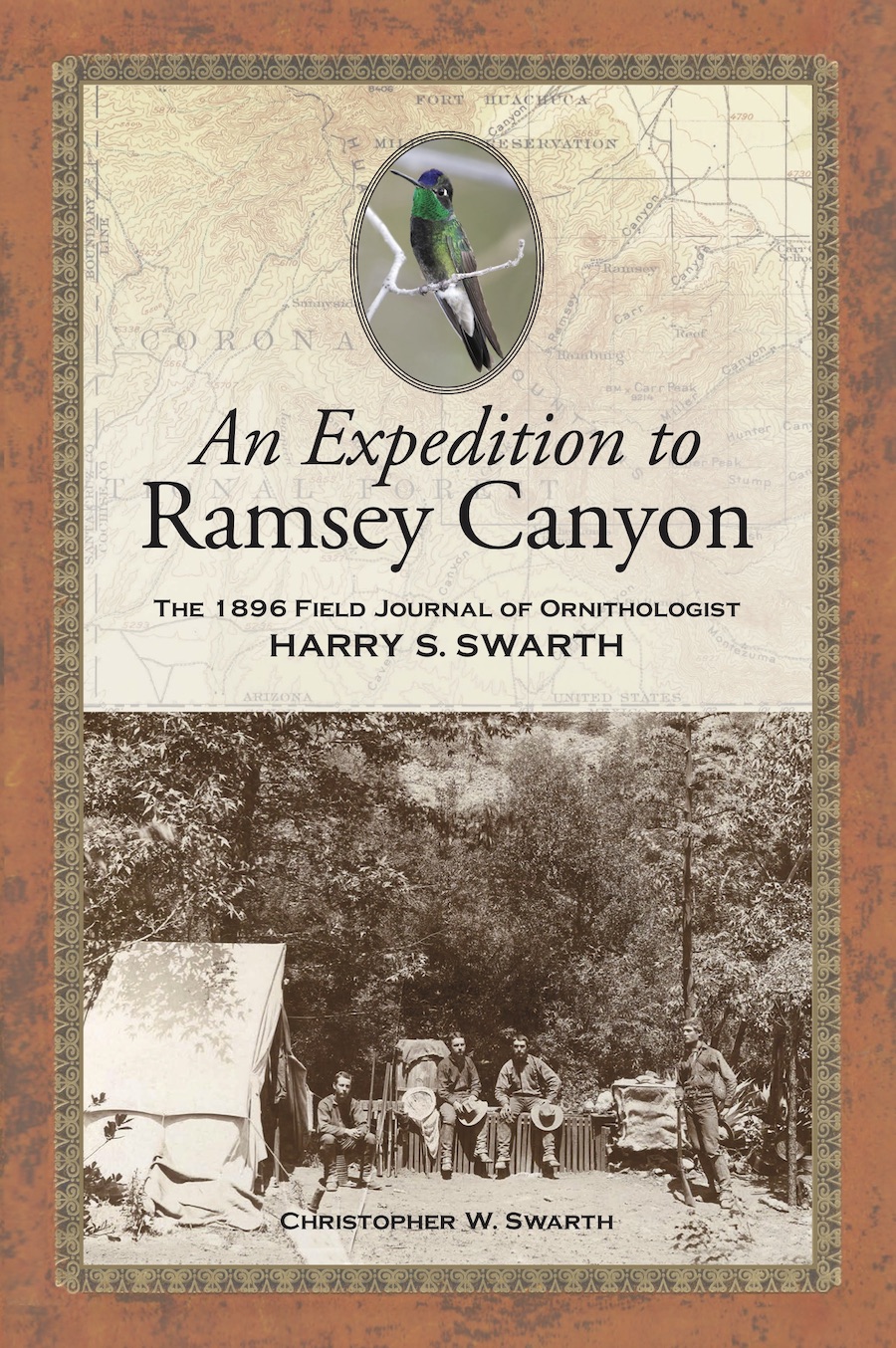 Chris Swarth has published the 1896 journal of his grandfather, Harry S. Swarth, the record of his ornithological expedition to the Huachuca Mountains of Arizona. Chris transcribed the handwritten journal and augmented it with explanatory material, photos, and comparisons of the birds of 1896 and the present day. Chris chose to publish this book under his own imprint, Yaqui Gulch Press, but we still consider him one of "our" authors.
In 1896, Harry S. Swarth and three other young companions departed Los Angeles on foot and by horse-drawn wagon on a 650-mile, cross-country journey of avian discovery. Their mission was to reach southern Arizona and return with specimens for the natural history museums in California. This they accomplished after spending three months studying and collecting birds in remote and rugged Ramsey Canyon in the Huachuca Mountains.
An Expedition to Ramsey Canyon features the scientific field notes recorded every day by Harry Swarth, a pioneer in the study of Arizona birds who later became Curator of Ornithology and Mammalogy at California Academy of Sciences. The book gives a fascinating glimpse into late 19th century field work, and reveals the diverse avifauna of Ramsey Canyon—today a world-renowned birding destination and National Natural Landmark in the "sky island" mountains of the southwest.
The book is available in paperback and as a Kindle e-book.
An Expedition to Ramsey Canyon (paperback list price: $15.99)
An Expedition to Ramsey Canyon (ebook list price: $5.99)
Published: October 2018
ISBN: 978-1724410382
Page Count: 100
Binding Type: US Trade Paper
Trim Size: 6″ x 9″
Language: English
Color: Full Color
Related Categories: Nature / Environmental Conservation & Protection