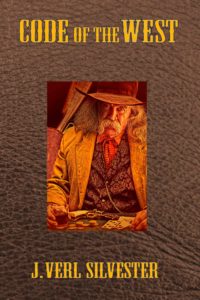 The Code of the West was what made frontier America worthy of attention. A lot of today's problems have been solved time and again across rural America. Right and wrong must be taught, but once learned is hard to ignore. Folks raised with country values find it hard to believe that so many people find it so easy to be dishonest. Freedom and the Code of the West are why we folks in the West are so unique.
This book has been an on-going project for many years as J. Verl Silvester has expanded from cowboy to western historian, Hollywood actor and stuntman. He is past president of Chuck Wagon Trailers. He has performed many live shows portraying Wild Bill Hickok, John Muir, Jim Bridger and Brigham Young. He also did stunt shows as well as cowboy poetry, all of which he has written himself. But it seems that everything he writes has one theme: The good ethics of the American Cowboy.
The Code of the West is not some curiosity from the old days. It's the right way to act.
You can download a FREE excerpt (coming soon) or you can read the excerpt online (also soon)
Purchase at Amazon.com
(List Price: $19.99)
Purchase Amazon Kindle edition (coming soon)
Purchase other ebook formats at Smashwords (coming soon)
Published: May 8, 2011
ISBN/EAN: 1460943295 / 9781460943298
Page Count: 262
Binding Type: US Trade Paper
Trim Size: 6″ x 9″
Language: English
Color: Black and White
Related Categories: Philosophy / Ethics & Moral Philosophy