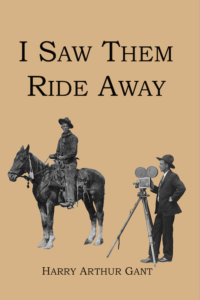 Harry Arthur Gant lived at the intersection of the Old West and the New West.
He was a cowboy in Colorado and Wyoming during the 1890s. He saw at first hand the hard work, the hard fun, and the occasional violence of that place and time. He knew cattle barons and horse thieves, con men and hustlers. He learned something from every aspect of this life, to make the best living he could. As civilization spread through the Old West, he participated in and organized the Wild West Shows that helped perpetuate the legends of that country. He had a reputation as a guy who could get things done.
When the first movie makers came around, he soon became indispensable to them, and then followed them to the New West. With a new set of skills, he was a cameraman, actor, and director in the silent film era, he helped perpetuate the new form of legend that came out of Hollywood. He knew stars and extras (before they were called extras), more con men and hustlers, movers and shakers.
He kept a soft spot in his heart for the men he knew best, the men of the Old West behind the legends. He tells his story with a distinctive mix of Old West plain speaking and New West sophistication, with the rough edges left on. This memoir spans two of the most fascinating parts of America's past.
The pictures from the book are available for viewing online, larger and with better quality than the printed versions.
As mentioned in the Editor's Note, we are developing a page of additional material related to the life of Harry Gant. Check back soon for more information.
Purchase at Amazon (List Price: $19.99)

Purchase Amazon Kindle edition (List Price: $7.99)
Purchase other ebook formats at Smashwords (List Price: $7.99)
Published: September 22, 2009
EAN/ISBN: 978-1441402349
Page Count: 328, includes 27 pictures
Binding Type: US Trade Paper
Trim Size: 6″ x 9″
Language: English
Color: Black and White
Related Categories: Old West / Cowboy / Hollywood / Silent Film